Ever heard of tasting raw soil? Ever seen metal, changing colors in a hot solution of soil? Or met a jewelry worker, searching for black mud in an old fort? All these intriguing facts are connected to one ancient art that was believed to be originated in Persia and brought to India in the 14th-15th centuries.
This 500-year-old, unique art style was a beautiful blend of local styles of Turkey, Persia, and Arabic countries. In India, as it was developed in Bidar, under profound encouragement from the Bahmani kings, the art has been popularly known as "Bidri art" and all products are famous as "Bidriware".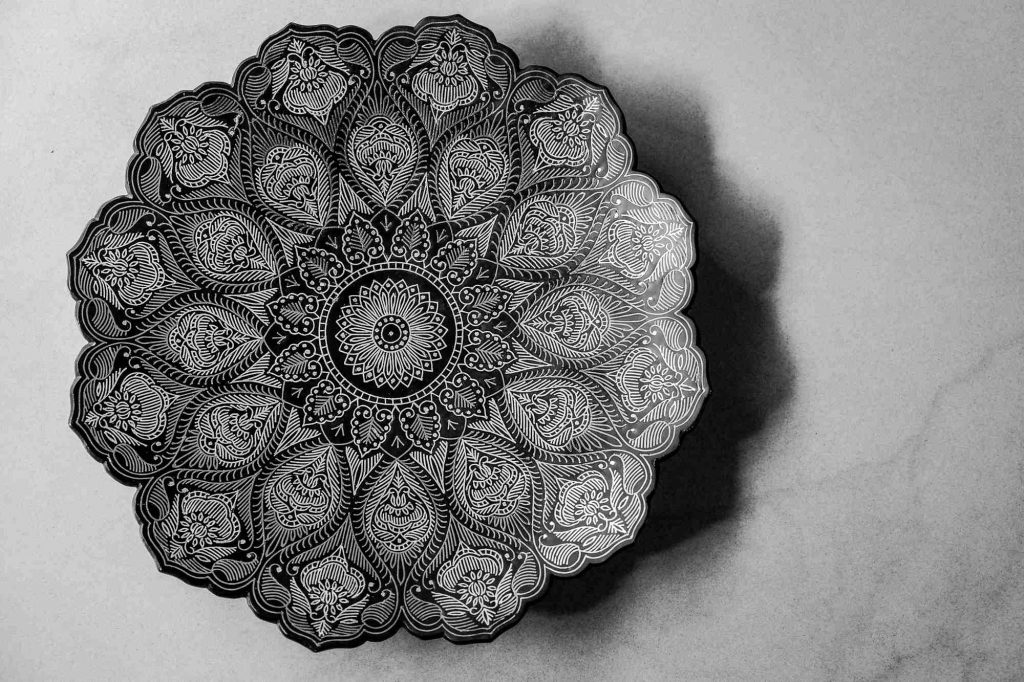 Bidriware is made of an alloy of zinc and copper while fine, shiny designs are created using thin silver strips. But the most fascinating fact is the usage of moist and blackened mud, available in few parts of the historic Bidar fort and nowhere else! Only the experienced Bidri workers can identify the specific soil after tasting it with their own tongue! The soil gives the final product a shiny black look.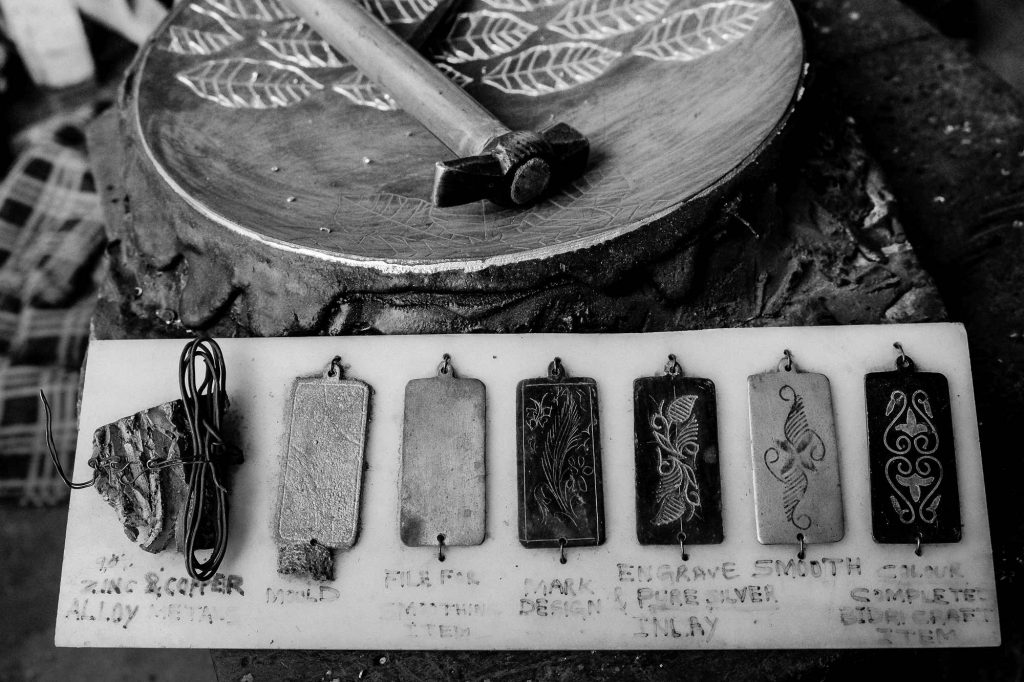 There are various stages in the process such as molding, designing, engraving, silver inlaying, smoothening, buffing, and finally oxidizing by the special soil.
Interestingly, there is no school where one can learn the techniques. The artisans pass on the skills to the next generations. Not many families are involved anymore yet one can see small workshops on the streets of Bidar and in the Bidri Colony. As we wandered with help of a good friend and journalist Mr. Desai, layers of stories were unfolded at every stop.
Art workers, busy in a molding workshop, owned by Mr. Abdul Rauf (58) who has been practicing since 8 years of age.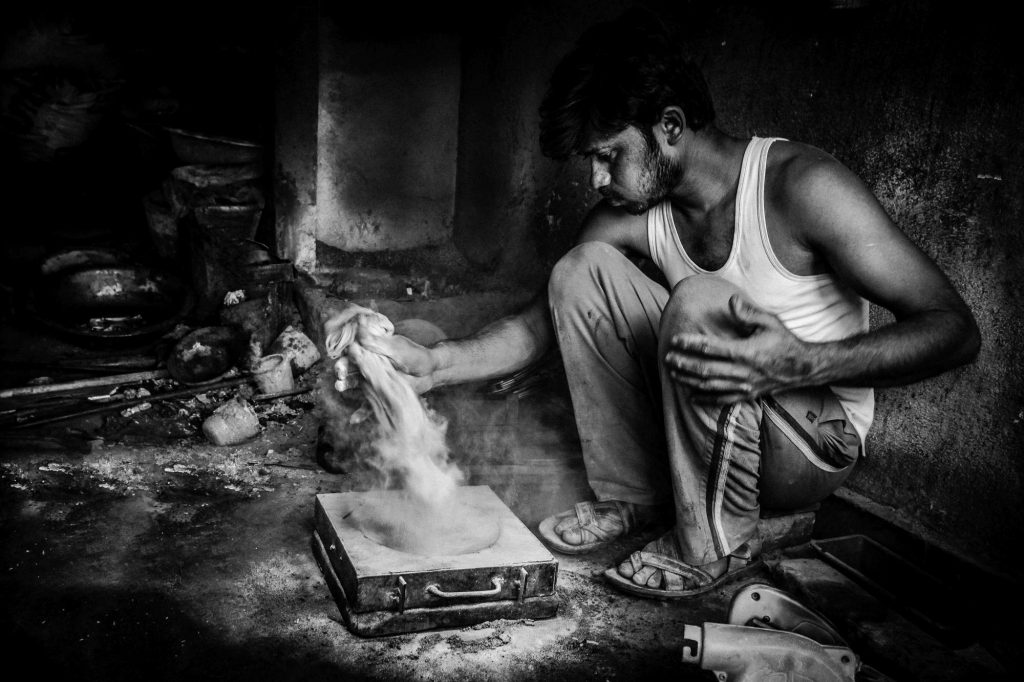 The molding material is prepared by mixing clay, soil, sand, and castor oil. Abdul Bari, who has been daily working at his father's workshop, claimed that they never get any health issues due to the dust or fumes.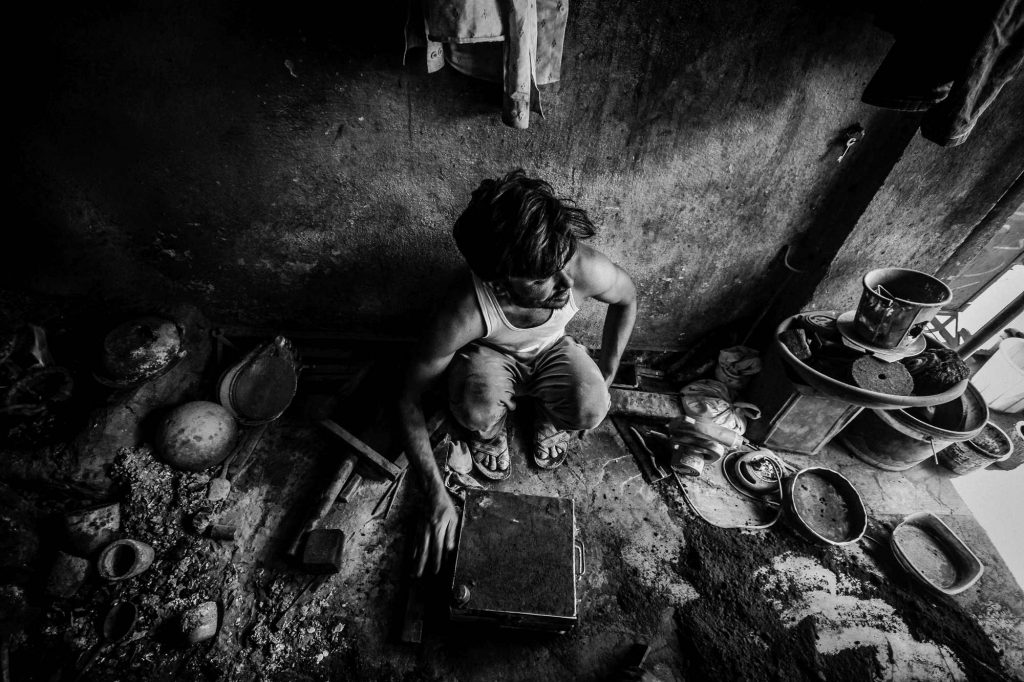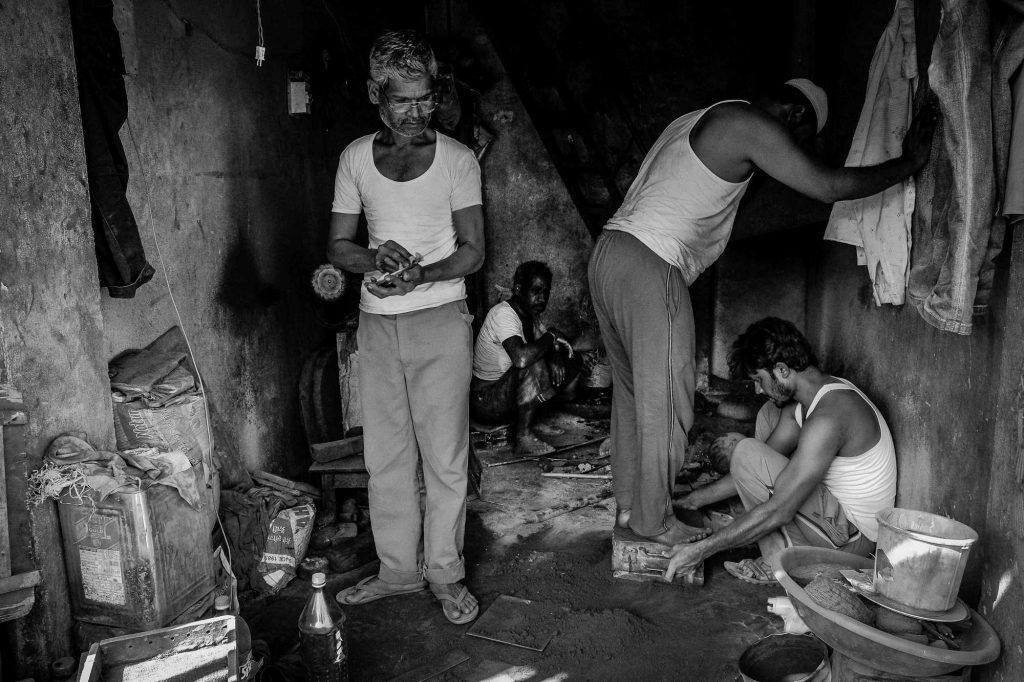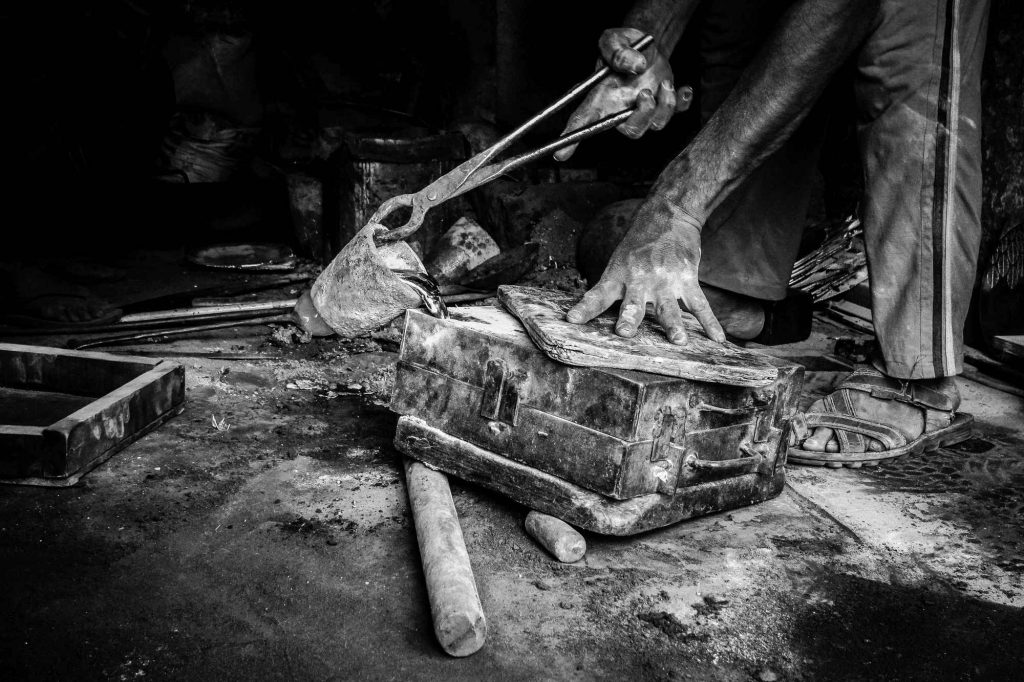 The molten alloy is being poured inside the mold.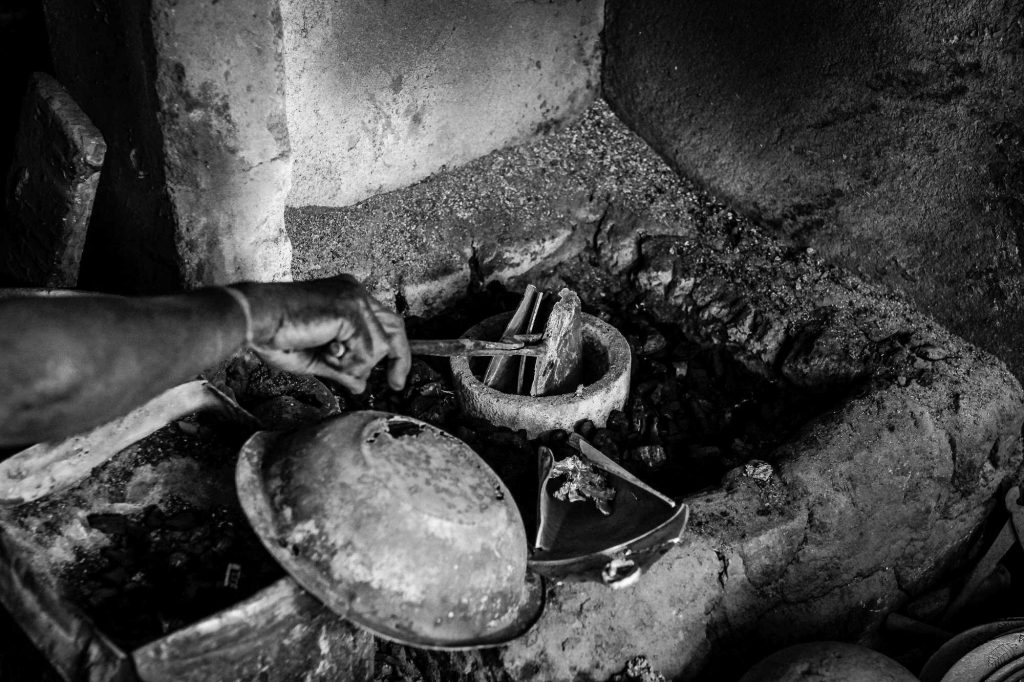 The excess scrap metal is melted again for re-use.
The buffing is done to smooth out the rough surfaces before proceeding to the next steps.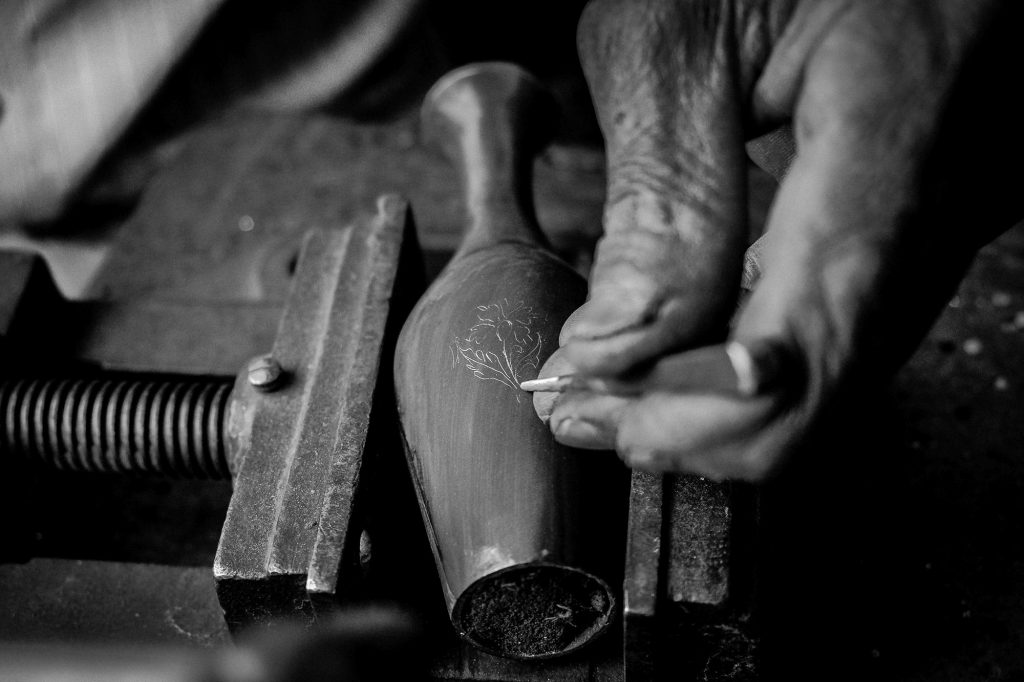 Delicate engraving on a flower vase is in the process but the metal surface still looks pale in this phase.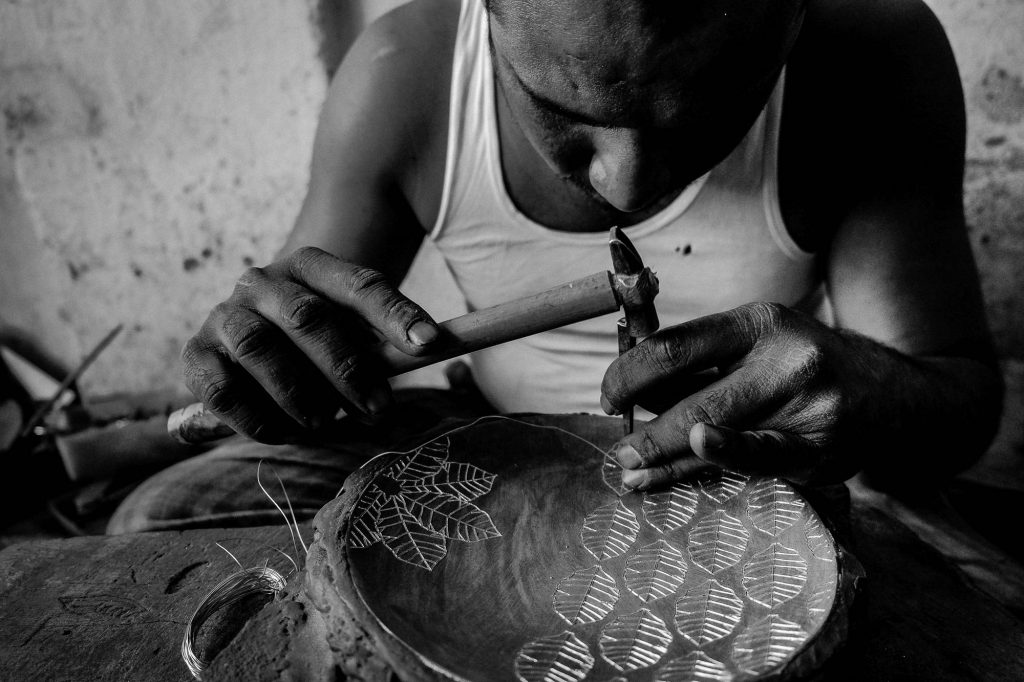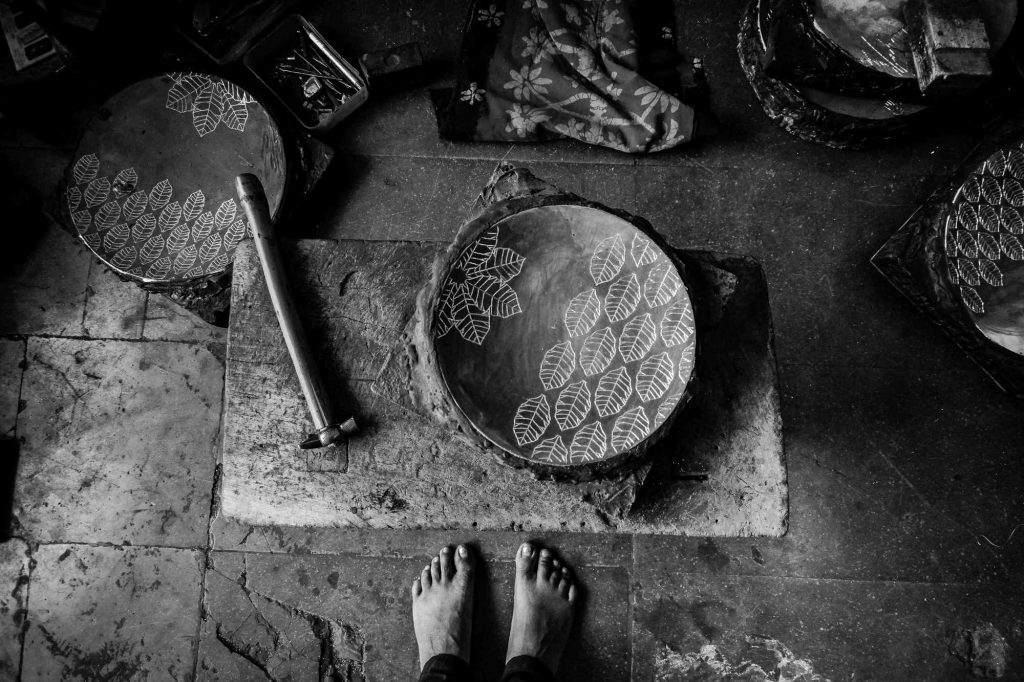 Silver inlaying is in progress by pasting a long silver string.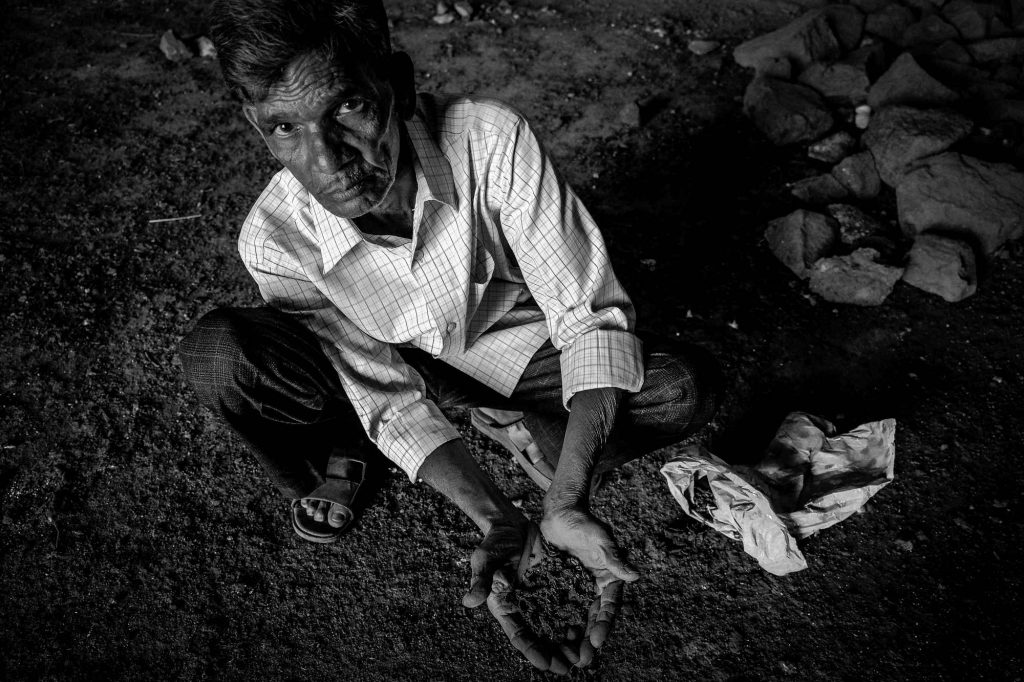 The expert worker, in search of ancient soil at the darkest areas of Bidar fort.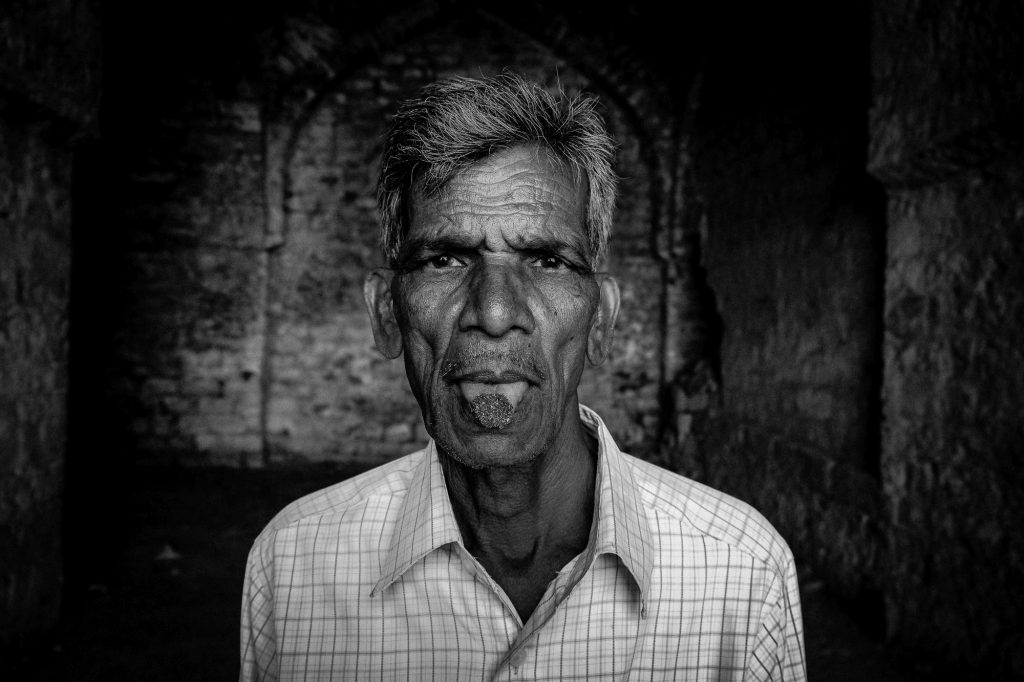 Soil testing is very important in the whole process. Because of its acidic nature, unlike ordinary soils, it gives a tingling sensation as they taste! Many scientists have taken the sample, but no one could ever publish the composition which gives it an oxidizing nature.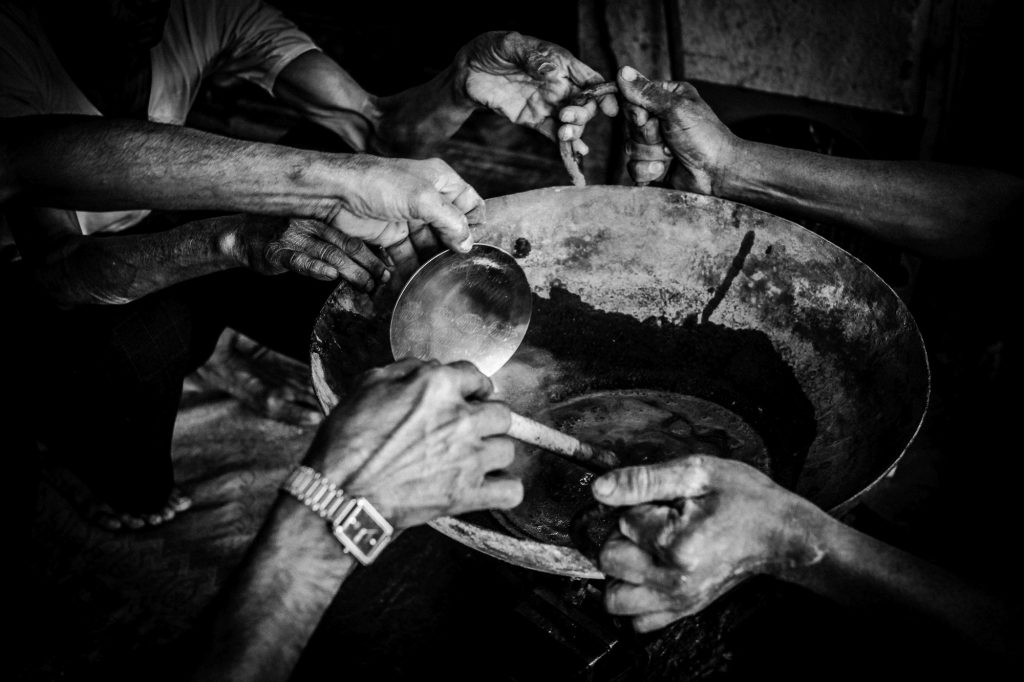 After silver inlaying, the casting is dipped inside the boiling solution of black soil, ammonium chloride, and water. This oxidation can also be done at room temperature. But it takes a longer time and the output does not get a darker look.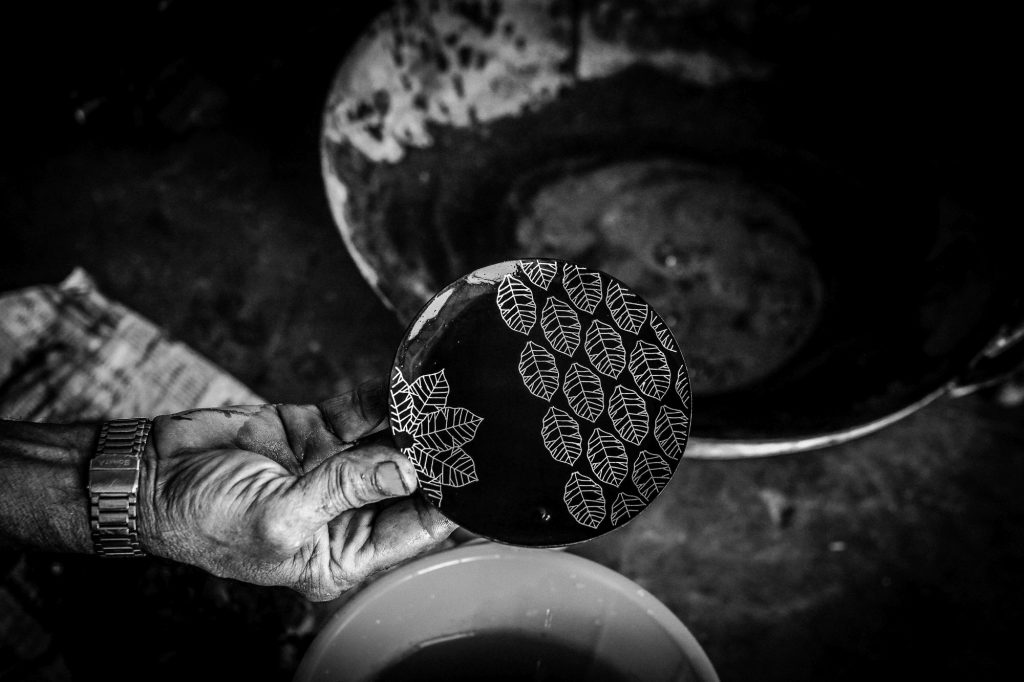 The pale product turns to a shining black plate with highlighted silver designs.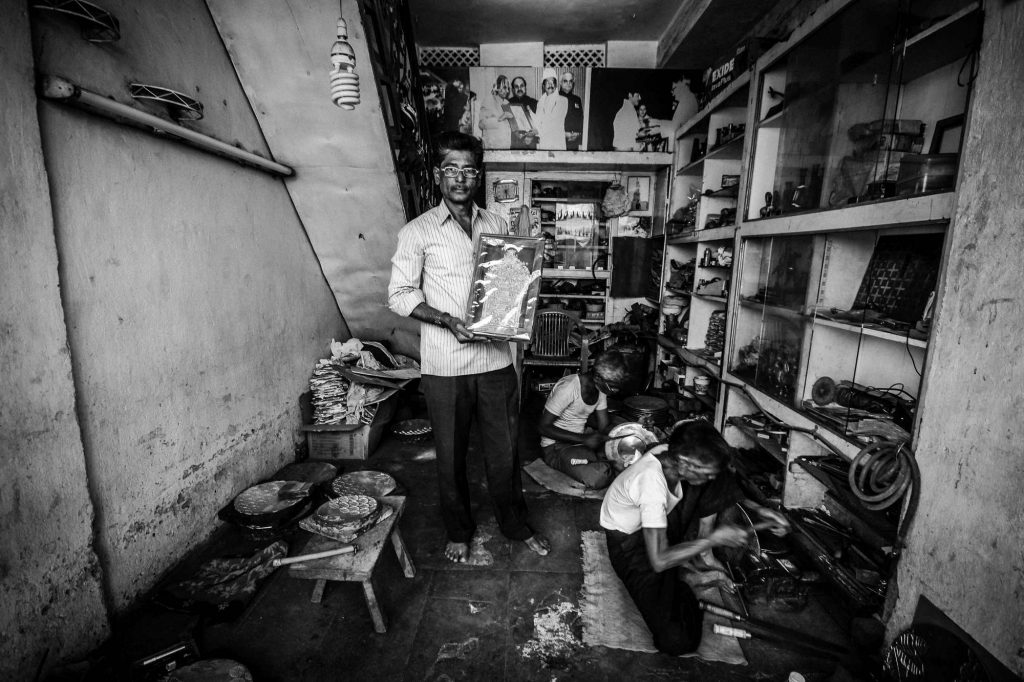 Mr. Abdul Rauf received several national awards for his excellent craftsmanship. Due to his innovative designs, Mr. Rauf is optimistic about the demand in the domestic and international market but the only challenge he feels is the decreasing interest in the current generation to know the entire process of Bidri art. Each of his workers is an expert of only one step.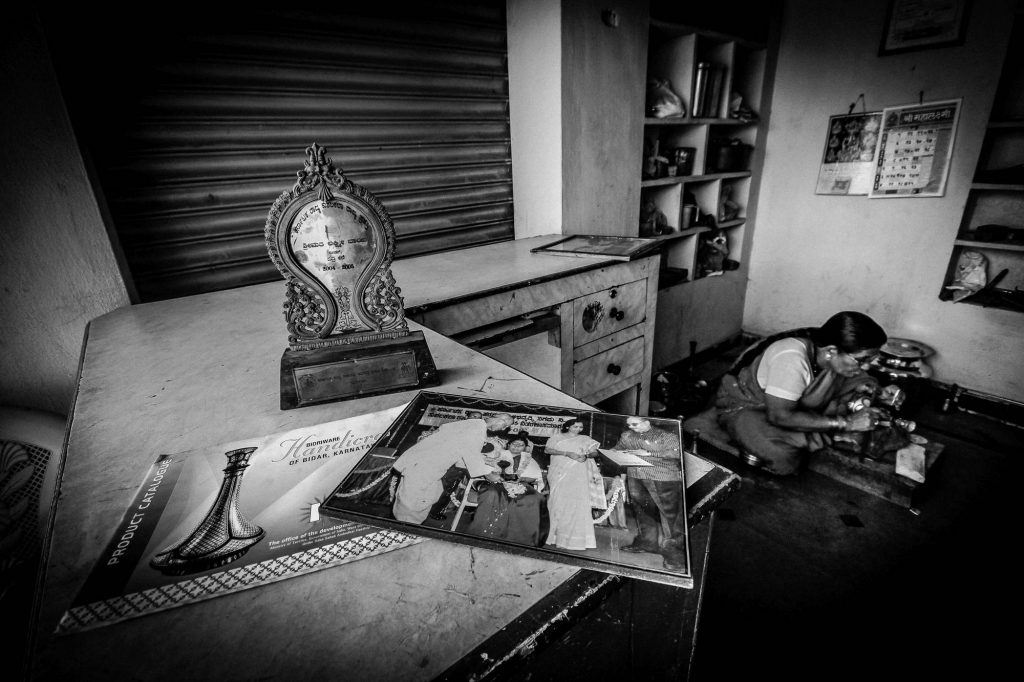 Lakshmi Amma, another award-winning lady runs her in-house workshop with her son in the Bidri colony. All the families in this colony, comparatively have a weaker economic condition and get some support from a local co-operative.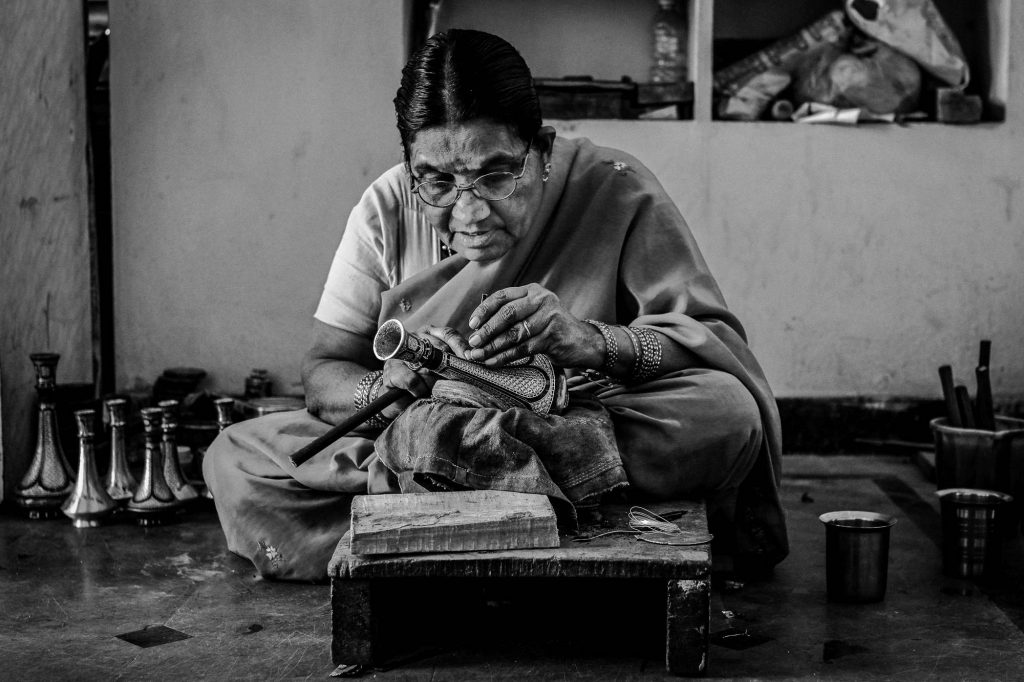 Because of limited reach to the actual customers, they get work only when the cooperative can bring some orders. It is about Rs. 6000 in every three months.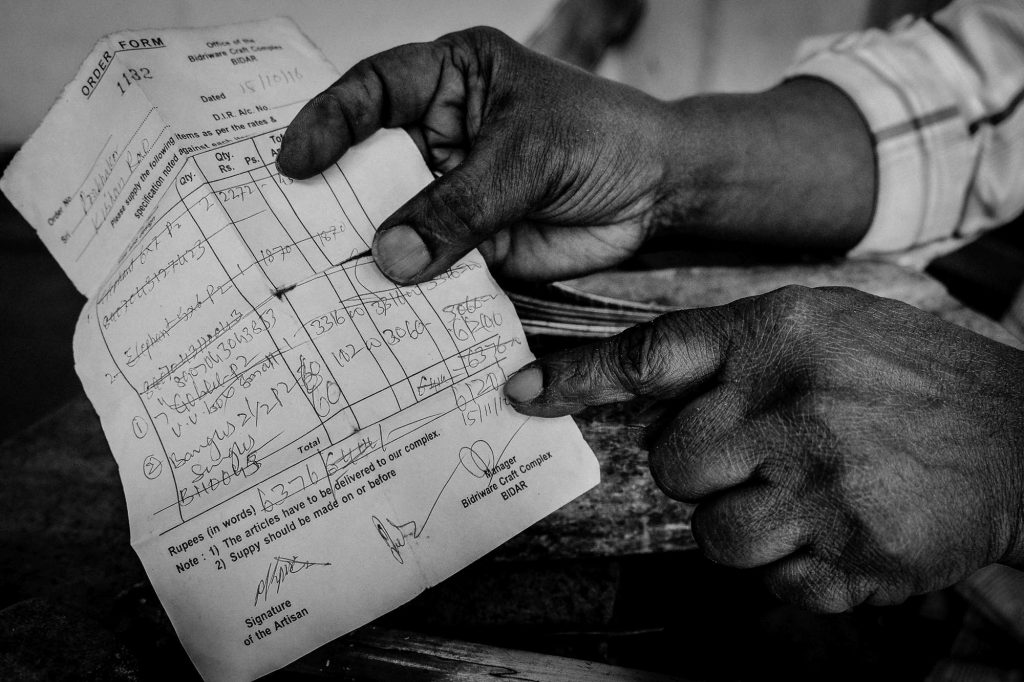 In 2008, govt gave Rs. 50,000 as a credit to everyone. But the artisans ended up paying more money as interest because of getting fewer orders. Finally, they managed to clear the dues 4 years back. Due to less demand and less labor charge (150 per day) not many people show interest to help in the workshop and the old lady ends up continuing the back-breaking work for 12 hours a day with her son. She thinks if the government can help in getting more orders directly from the actual customers their situation can improve a bit.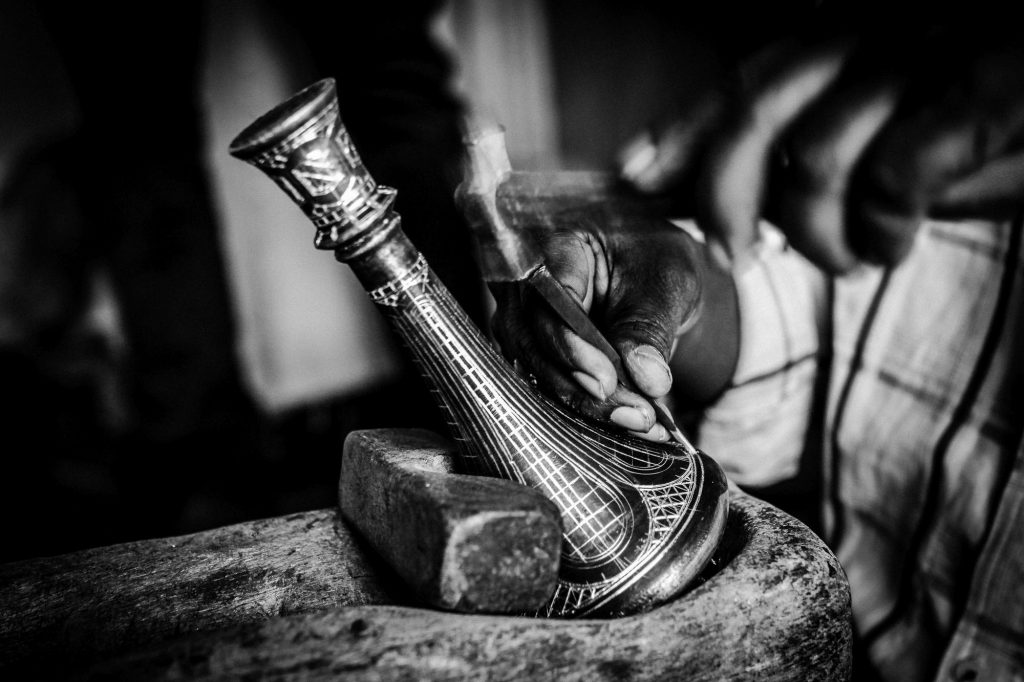 Only a skilled hand can make these superfine designs on the smallest of the products.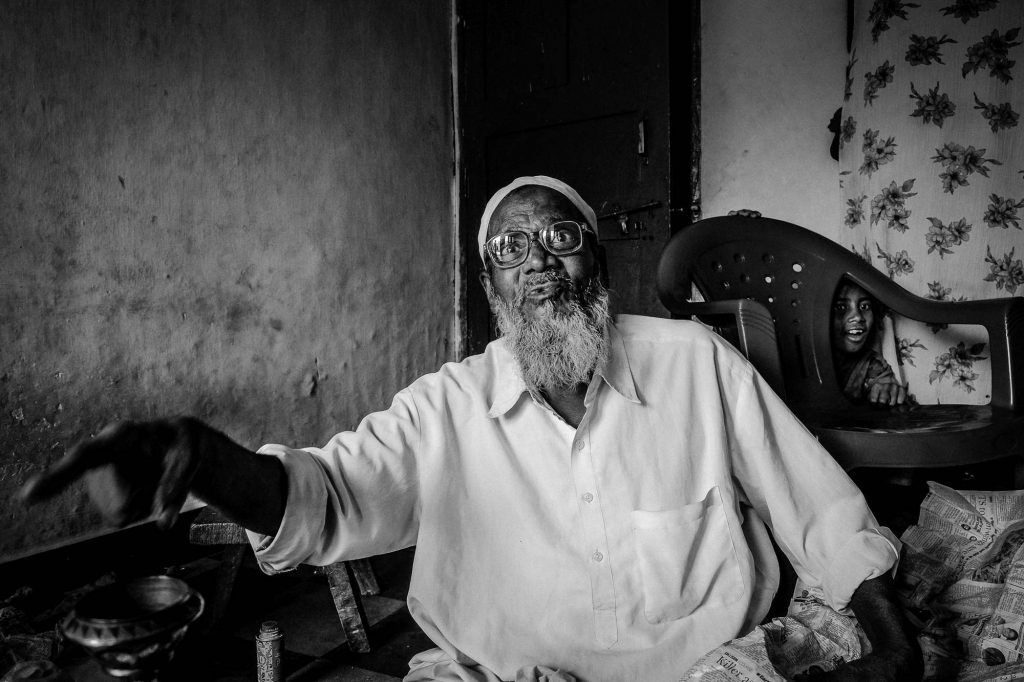 Our next stop was at Rashid Quadri's place who has been practicing for the past 40 years and was also seen in the regional art parade at Delhi, for the event of Republic Day of India. He was the most interesting person, we had ever met in our Bidri project. Full of expressions and very clear about his opinion.
During our entire conversation, he kept on emphasizing the same fact that Bidriware needs innovations to survive in the coming years. The same old flower vase and plates are no more trending. Something new has to be there to attract more customers. Being a grandfather of five he did not feel shy even a bit to ask us that we should spread this word and if possible, we should also learn some designs from wherever possible and teach him. Because the young generation from the big cities has more reach to the greater world than him.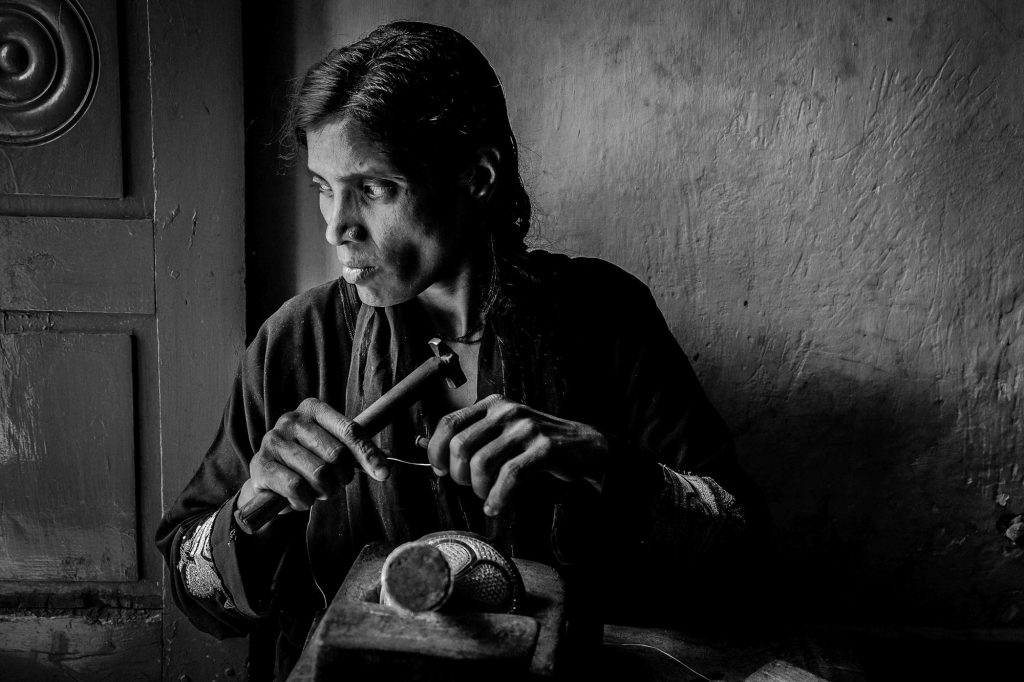 His daughter is also an expert artist and works for the local co-operative. She works day and night to earn more as she dreams to give good English education to her sons.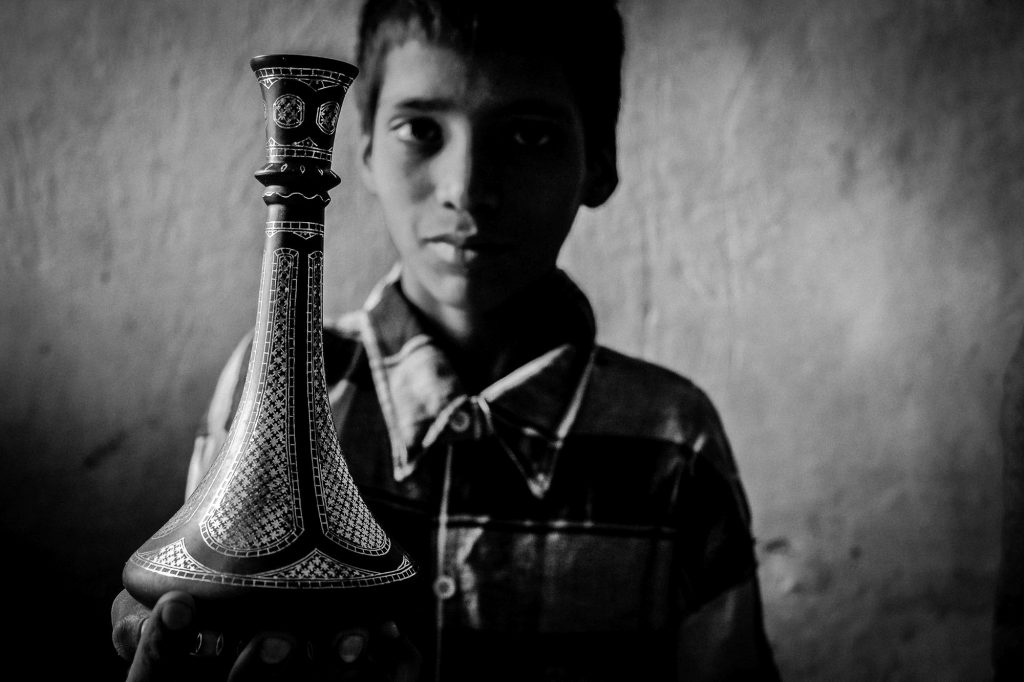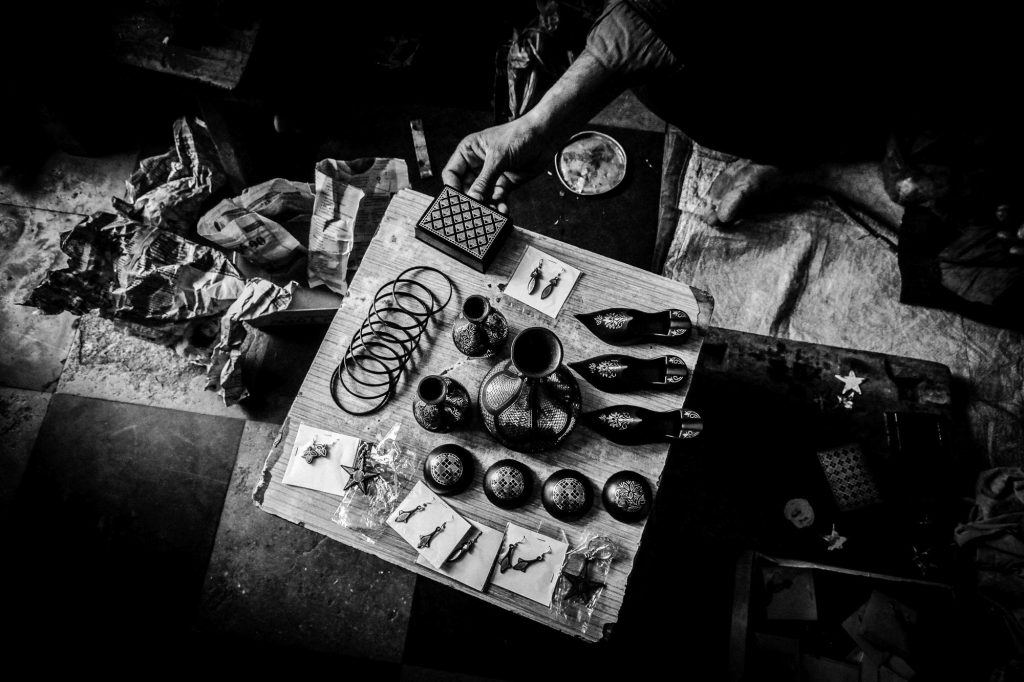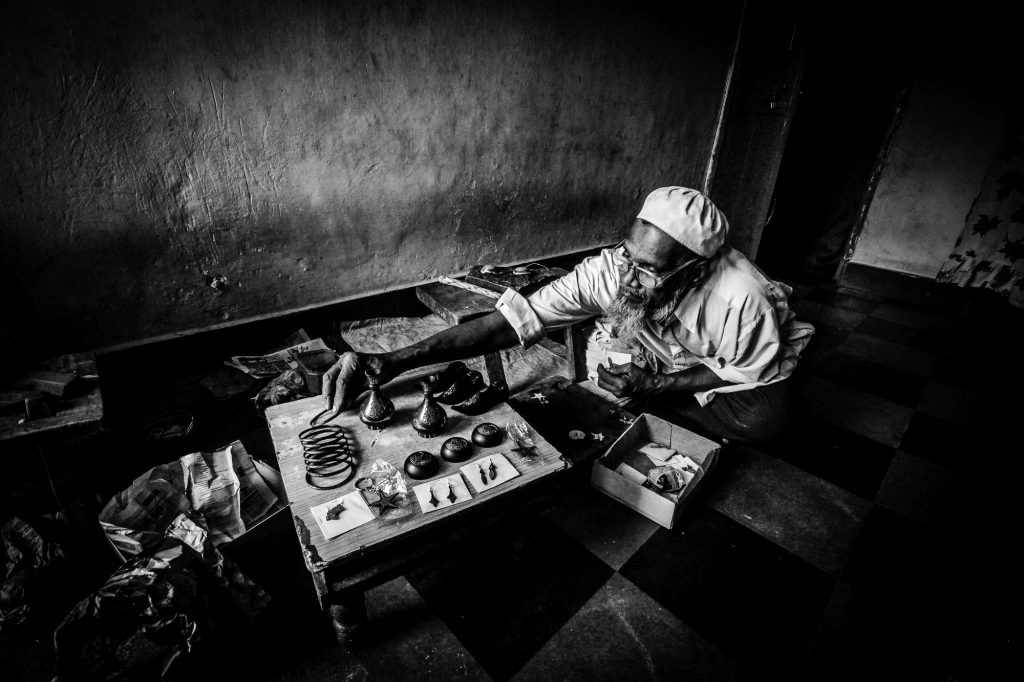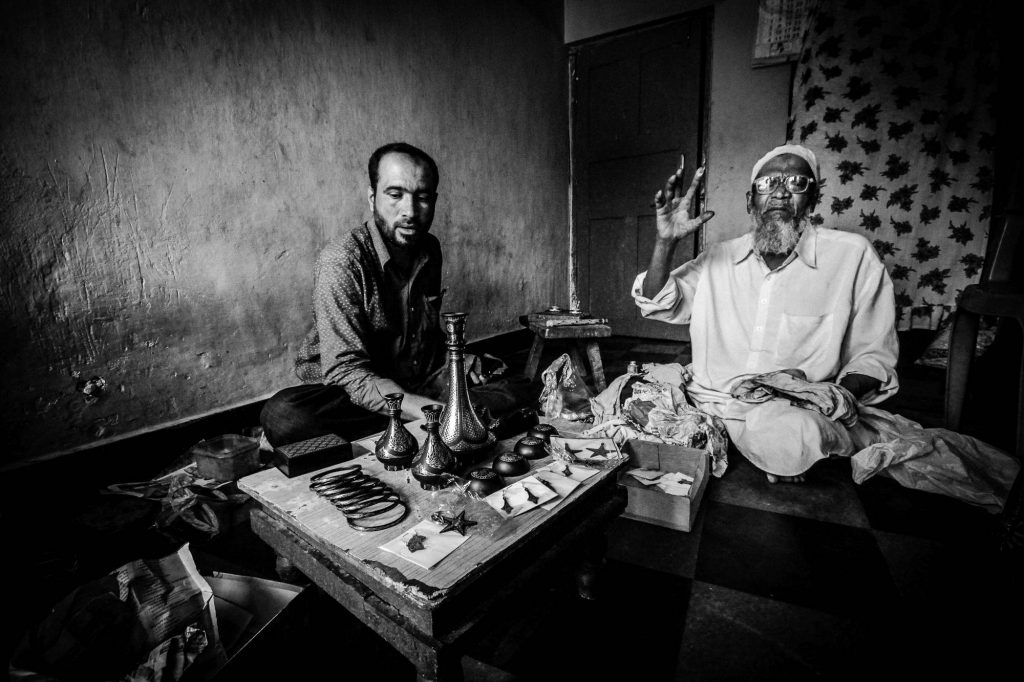 Quadri Sahaab narrates how he prepared a product that depicts the story of Lord Hanuman (Hindu myth), carrying the entire hill to save brother Laxmana.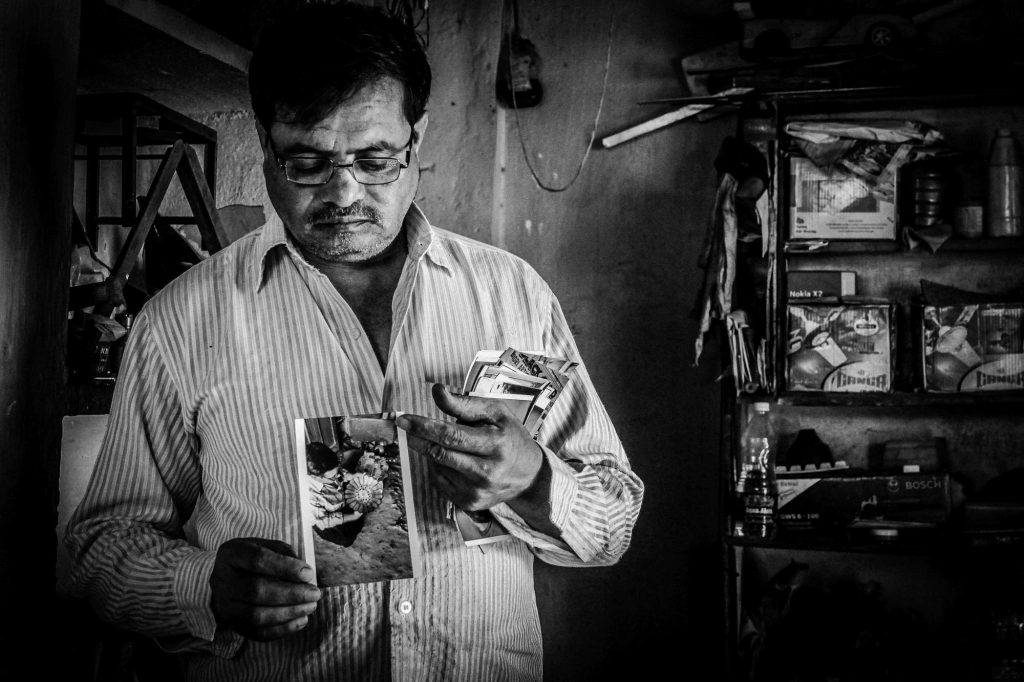 "Sahayog", a local NGO is doing its best to encourage the artists in Bidri Colony.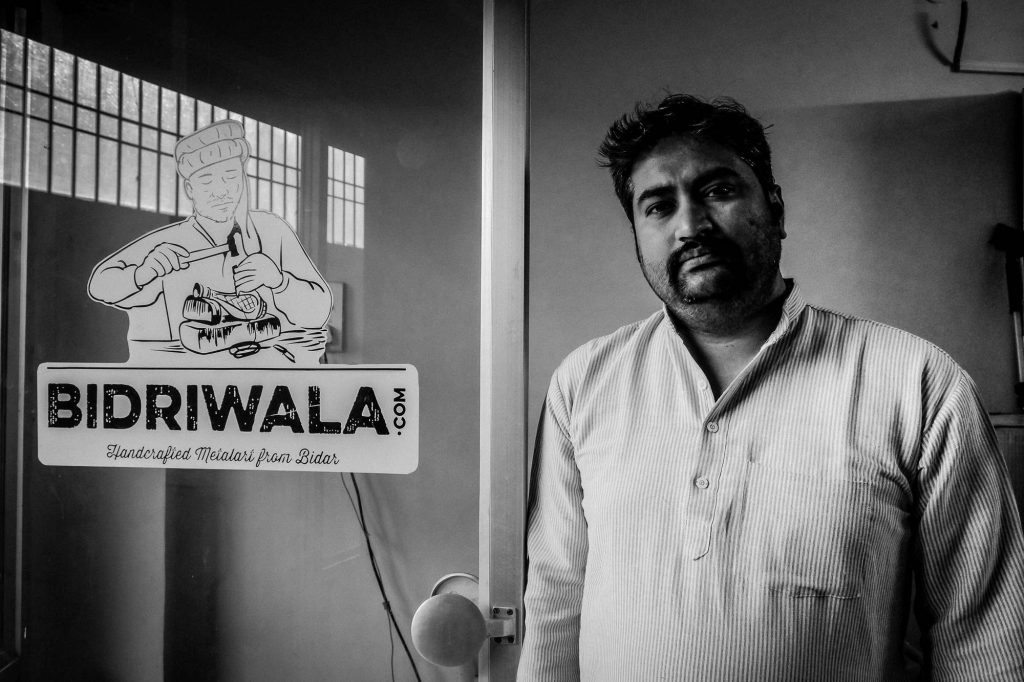 Our final stop was at a city studio, named "Bidriwala". They also sell products online and get orders from various five-star hotels and Handicrafts India. The owner is married to a designer lady who with help of some local artists applies new concepts to give their business an all-new level.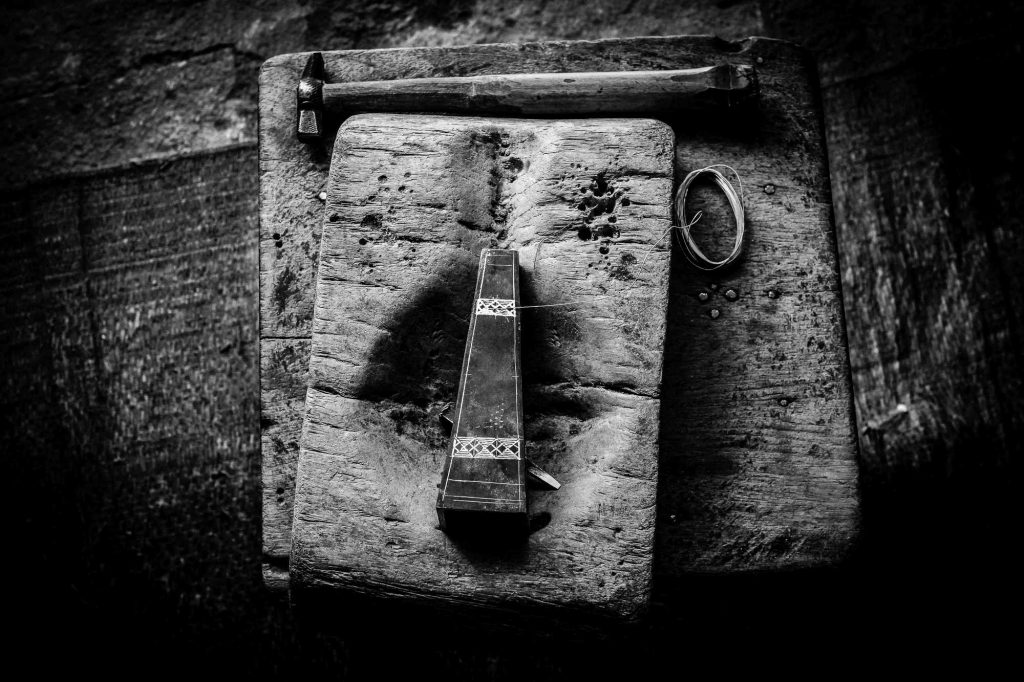 Finally, we felt that there are artists from different backgrounds and conditions in Bidar but somehow a string might be missing which could consistently connect them together so that the modern business ideas, ancient experience, skilled hands, and innovative thinking could make an amazing blend. Apart from that, government and the NGOs from nearby cities can also play a crucial role to promote this art and generate more demands in the market. Last but not the least, this can be a hidden opportunity for the design students who can join hands to apply their own innovations to this ancient art.